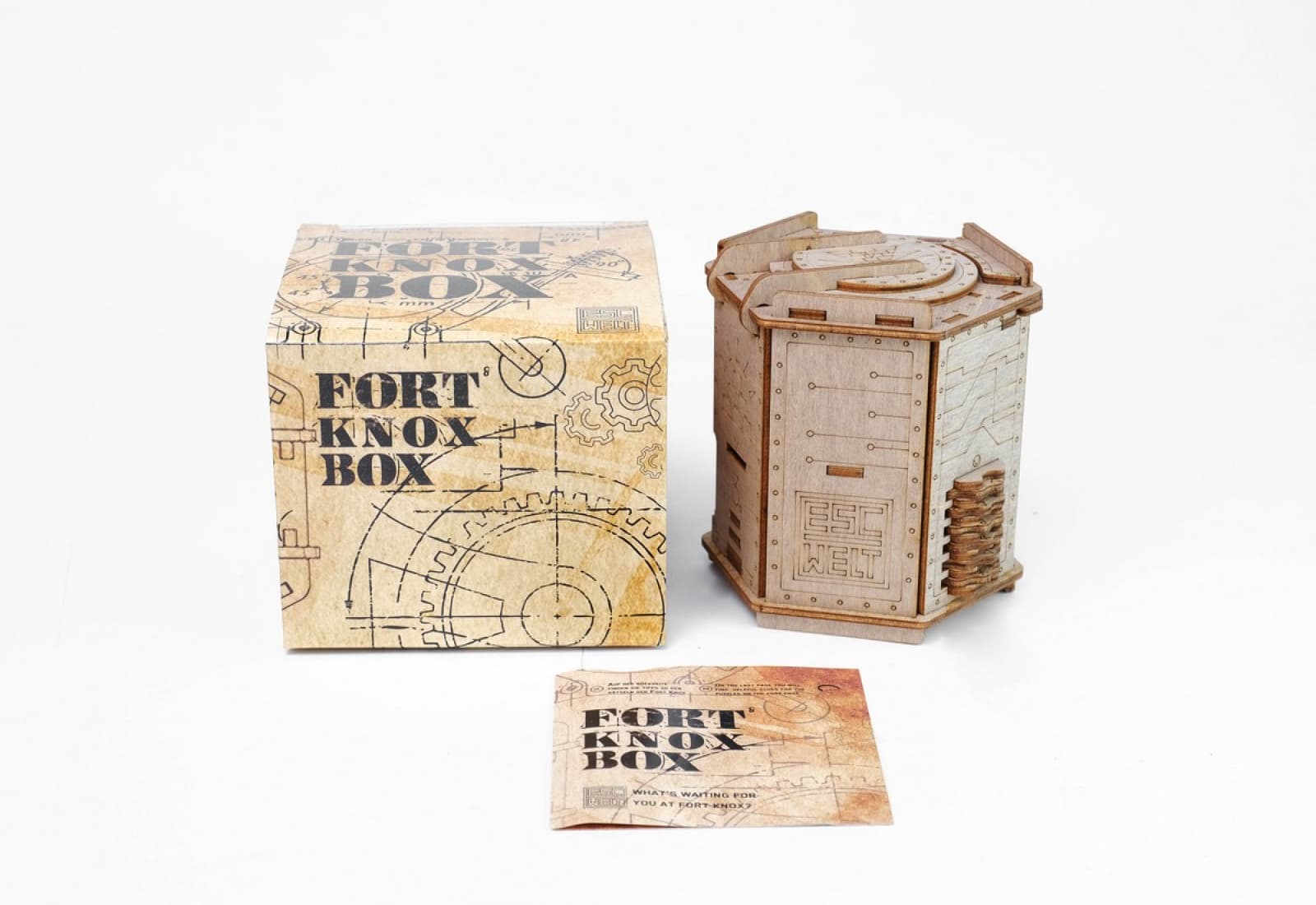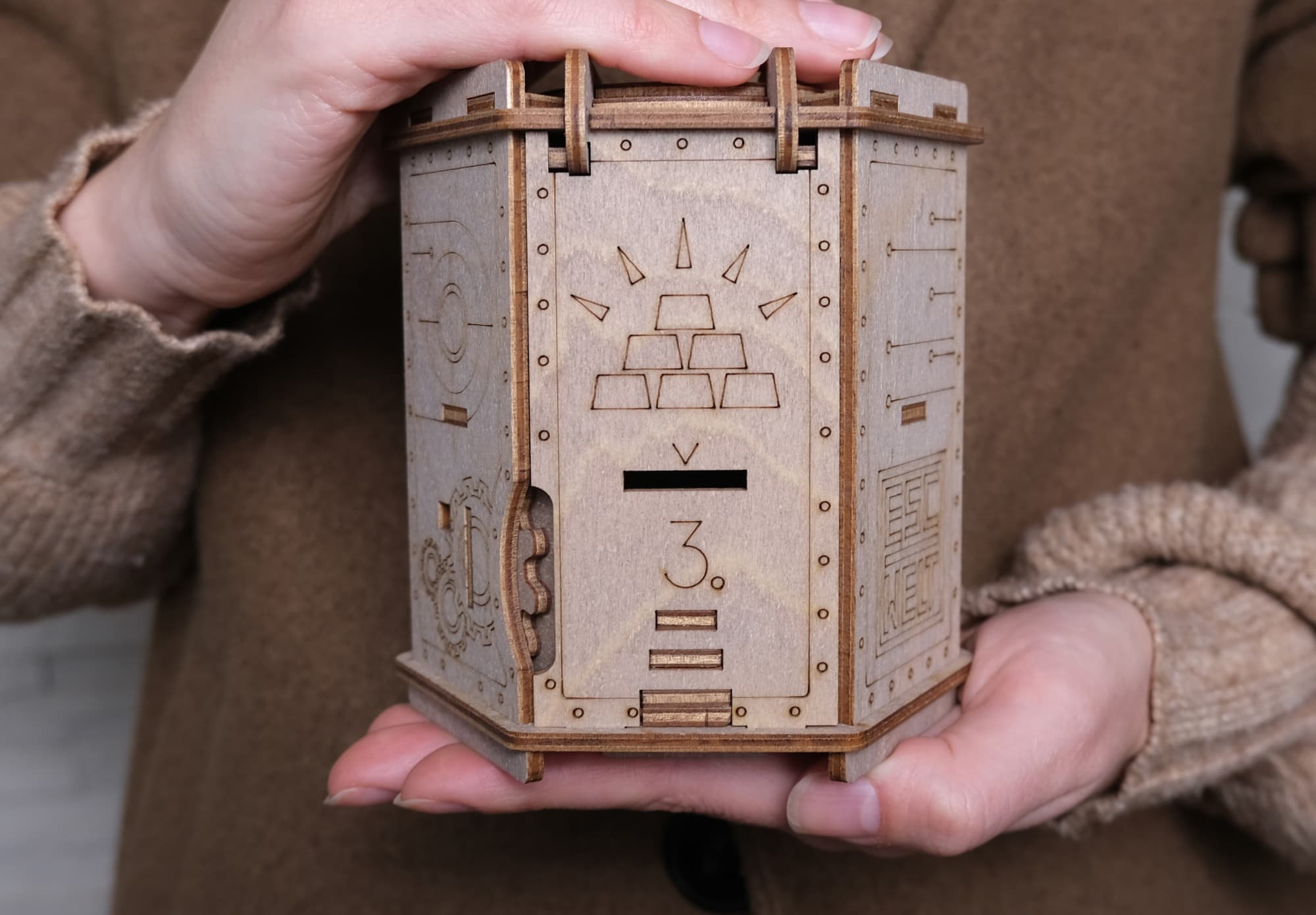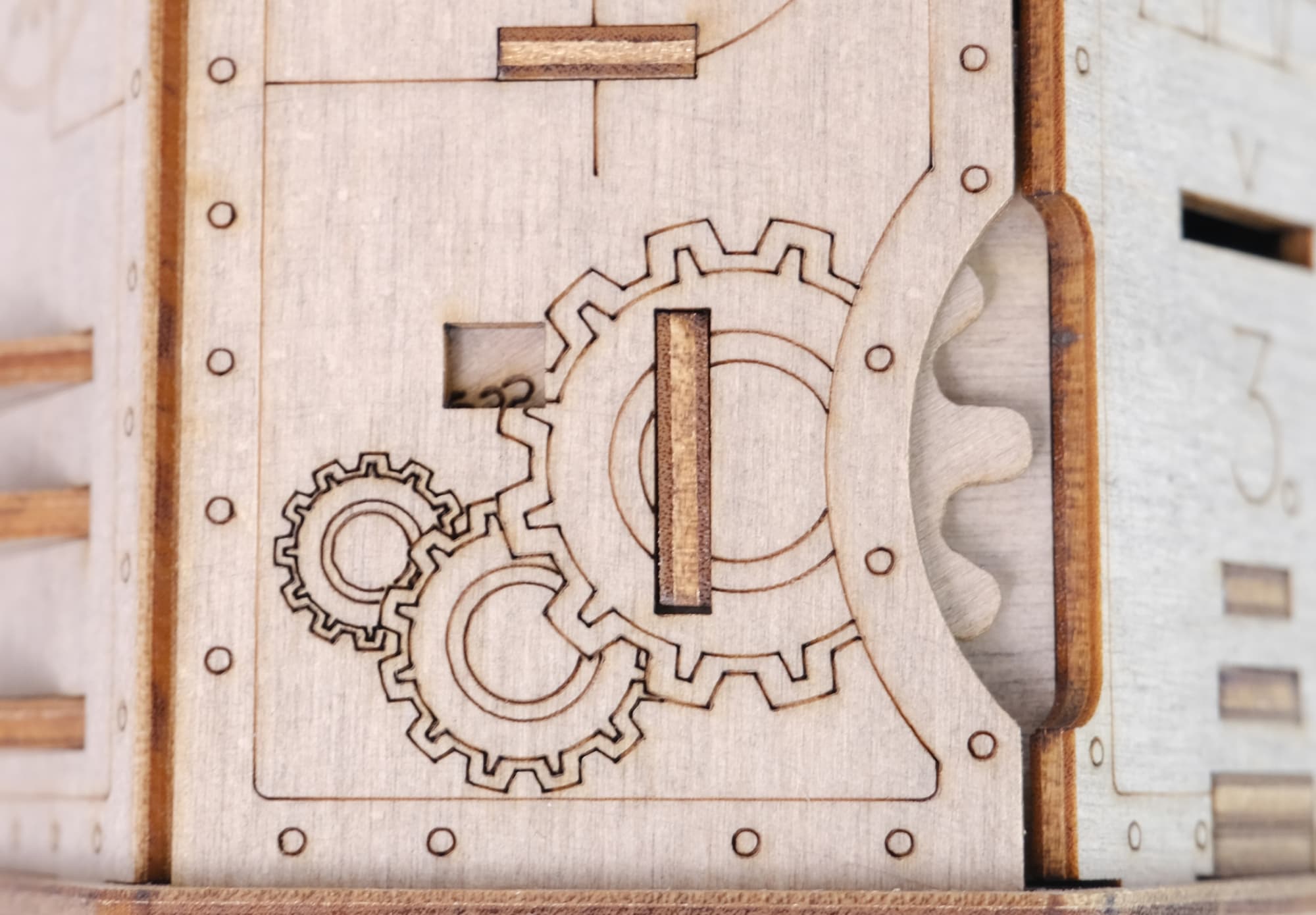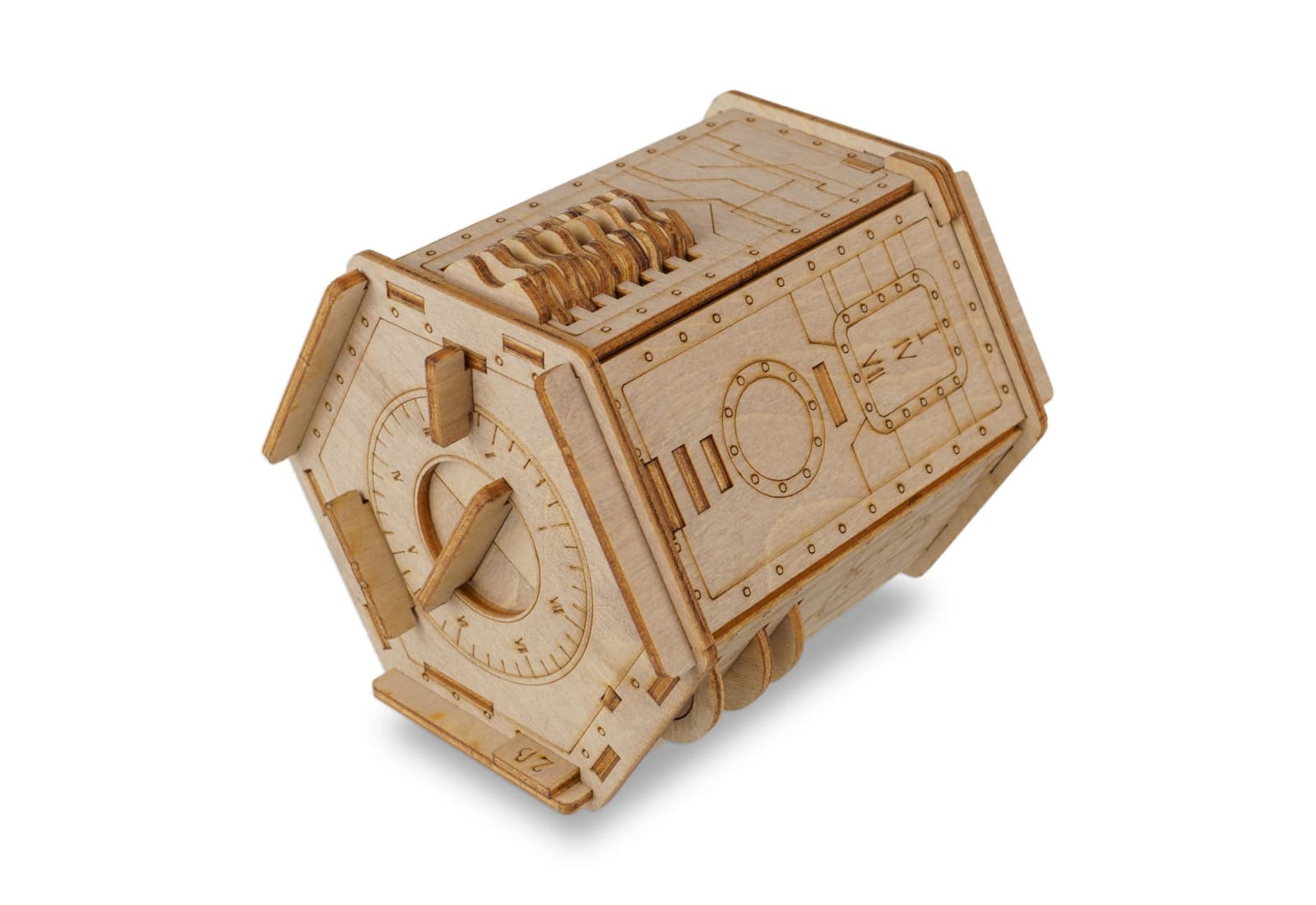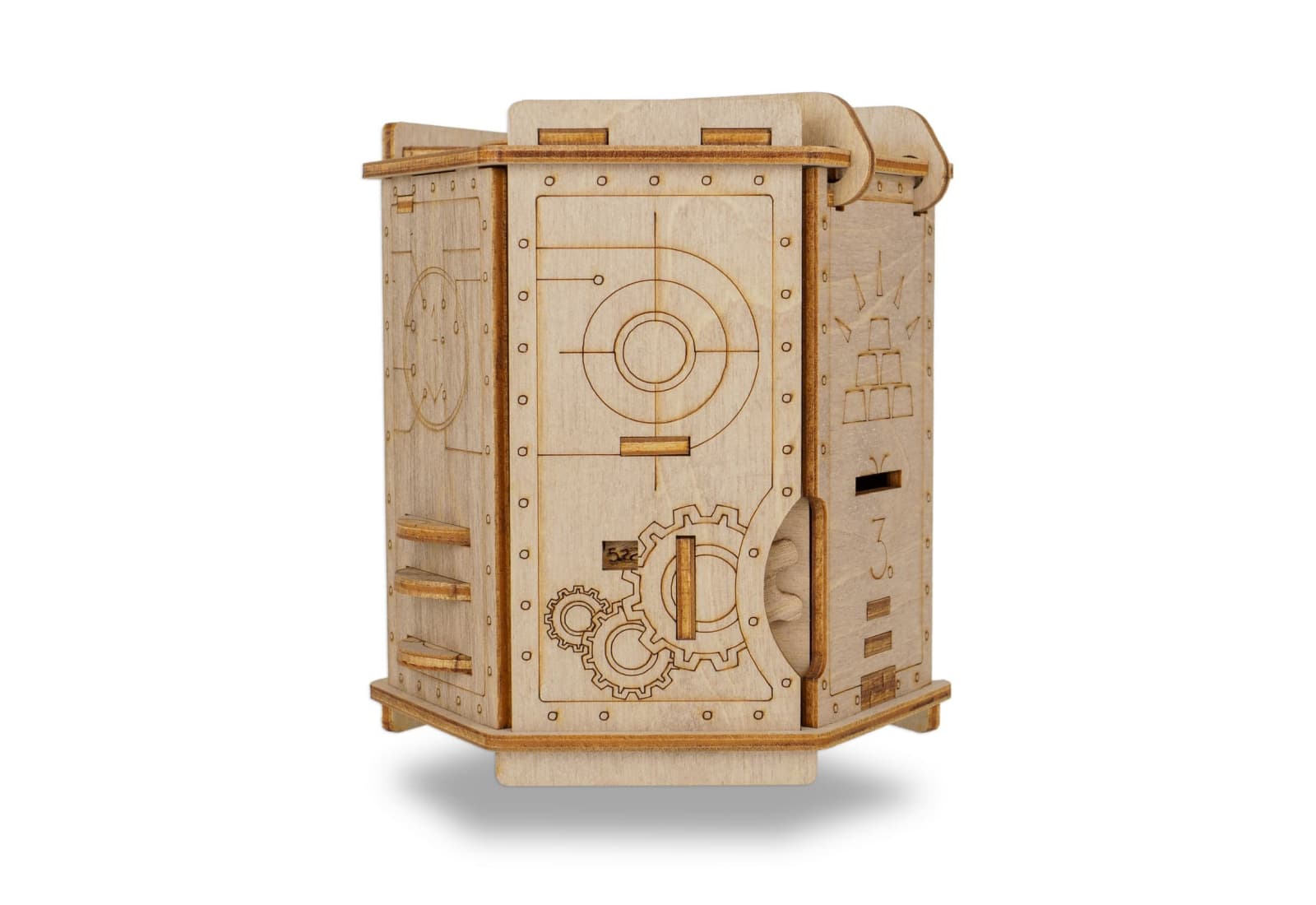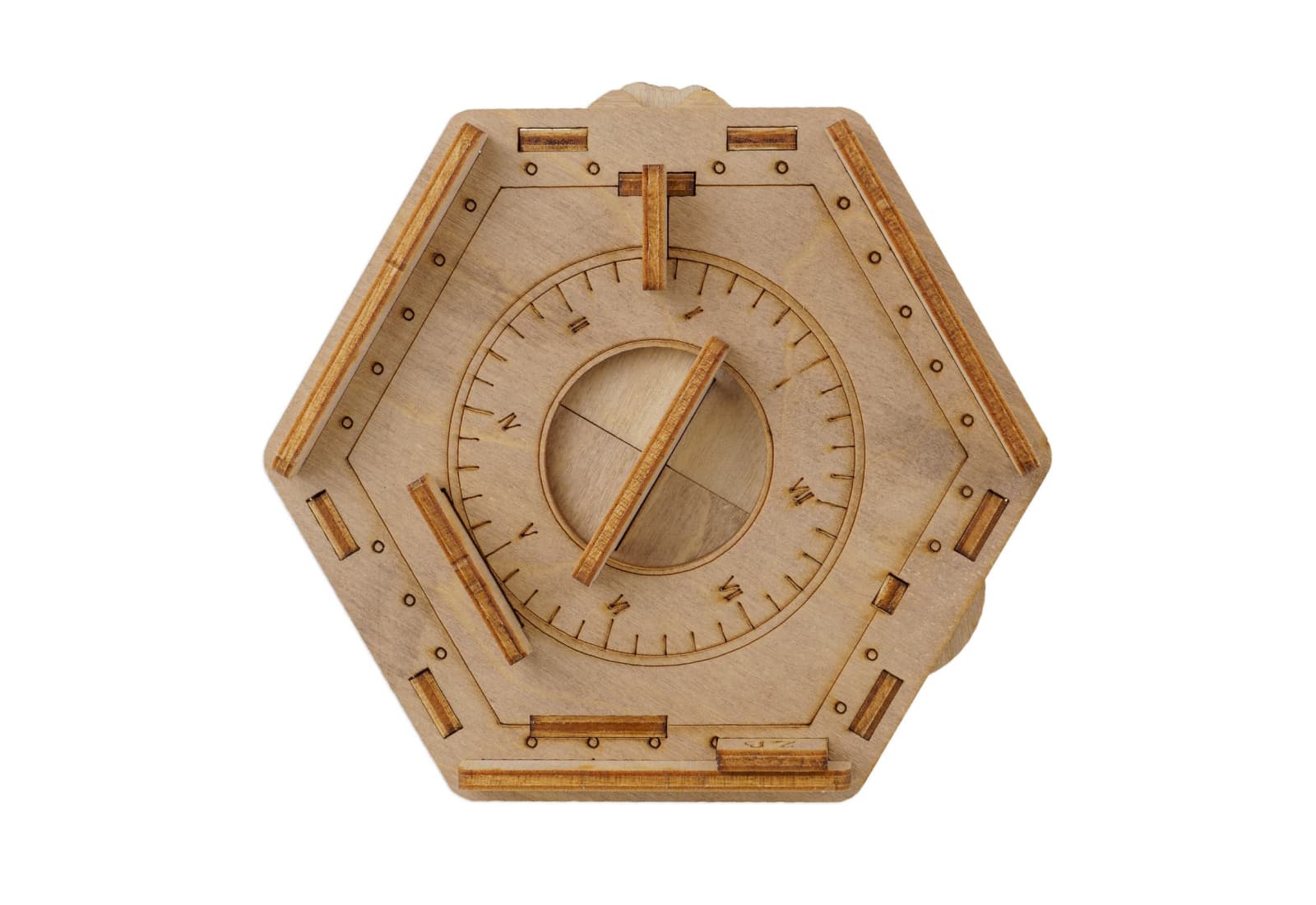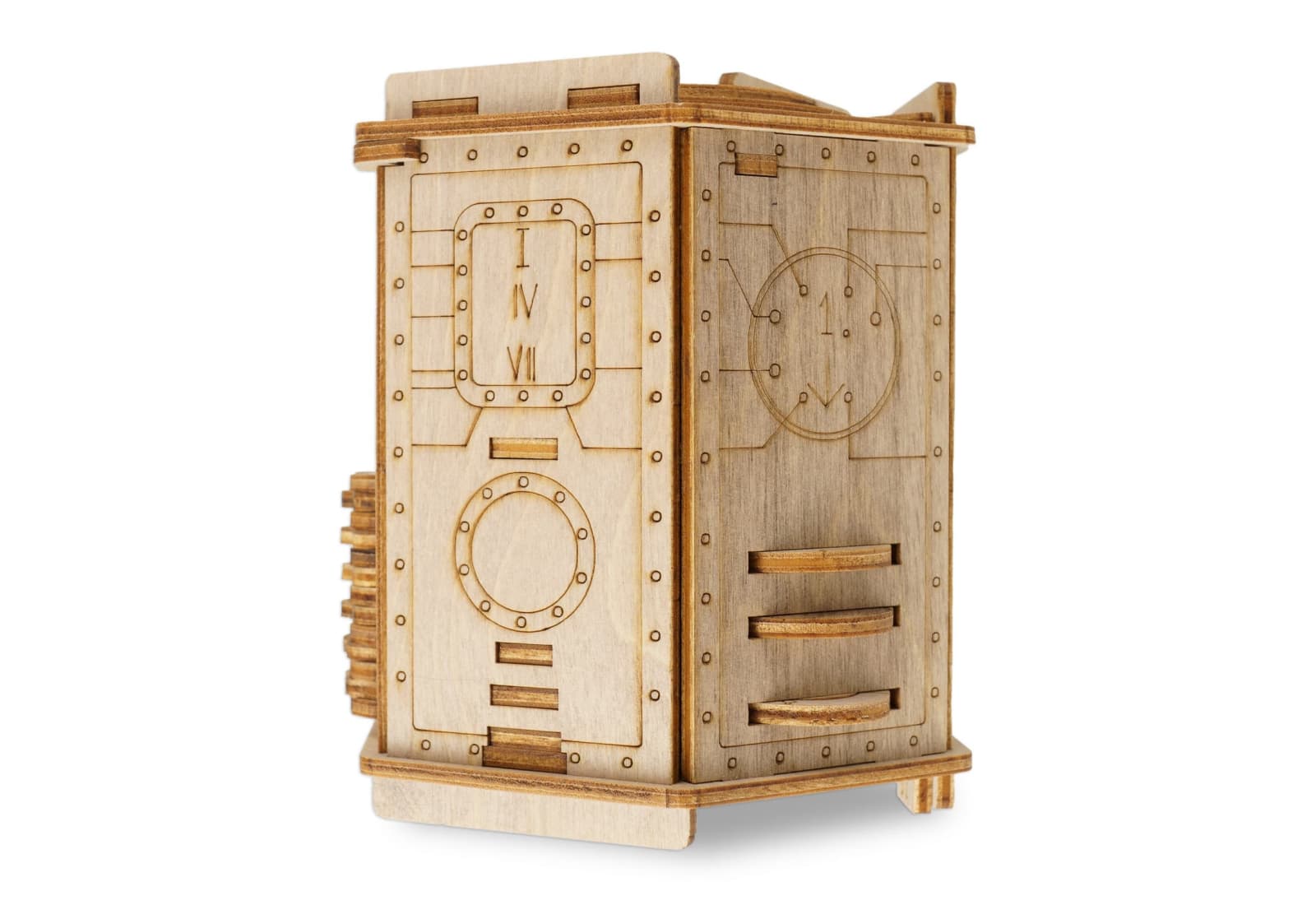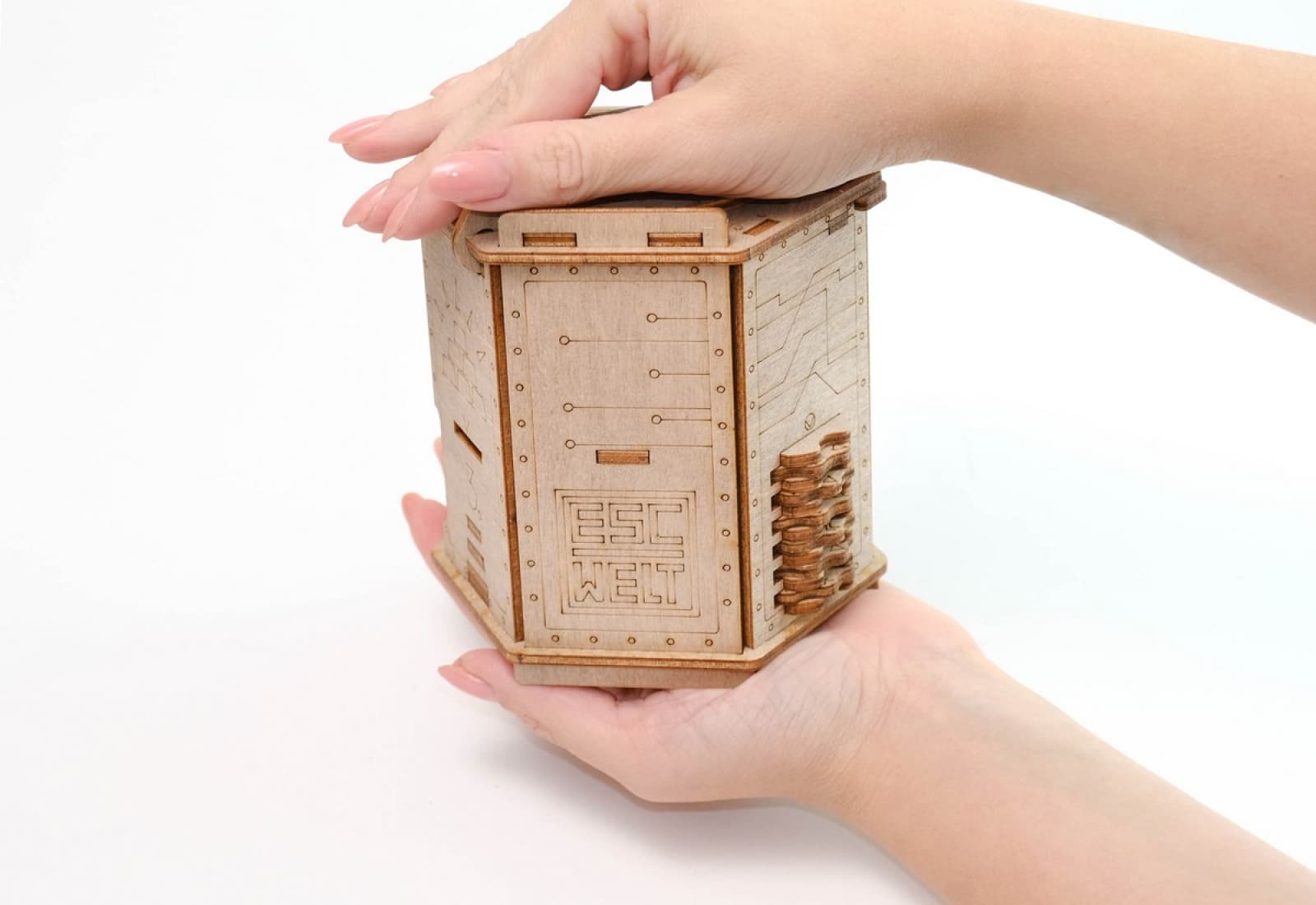 THE FORT KNOX - A NEW PUZZLING EXPERIENCE
£38,00
£33,00
-14%
In stock
🎁 Delivery takes 4-7 days
Delivery from 13 to 16 December.
A NEW AND EXCITING PUZZLE GAME FOR FRIENDS AND FAMILY
How to open Fort Knox?
You need to solve all the puzzles to get to the secret compartment inside. Check Fort Knox carefully and look for special symbols on it. They will help you understand the mechanisms and open mysterious Fort Knox.
Can I re-play Fort Knox?
The Fort Knox doesn't damage when you play. However, there is only one way to solve Fort Knox quizzes. So, when playing the second time, you already know how to do it.
How many people can play with me?
The game is designed for a maximum of 2-3 players. You will also have great fun playing Fort Knox alone.
What materials is the product made of?
Exceptionally natural. All our products are made from high-strength natural wood (birch). Our team assembles puzzle pieces by hand. We are very careful and sensitive to the quality of the product, so you can be sure that it is safe. And also wood allows you to experience a very pleasant tactile sensation - you will like to hold our puzzles in your hands.
I want to gift Fort Knox. Do I need to solve all the puzzles?
Not necessary! Especially for you, we have posted a short instruction on the website on how to quickly open Fort Knox without solving all the quizzes. Thus, you can easily open Fort Knox in a few simple steps, hide the gift, close it in the same way and give it to another person.
How long does the game last?
On average, solving all the puzzles and opening the Fort Knox takes 60-90 minutes.
Can I play with my child?
All products are designed for ages 14+. However, helping your child and solving puzzles with him will greatly unite your family and allow your child to solve difficult problems as a team!
Fort Knox
Fort Knox is a new form of intellectual logic games designed to replicate the story and scenarios of an EscapeWelt escape room.
Recreate the tension and thrills of an escape room with your loved ones from the comfort of your own home.
Fort Knox is crafted by expert engineers - who have hand-picked puzzles and multi-level tasks designed to challenge. Solve the challenges to unlock the treasure of Fort Knox.
Made entirely from birch wood, Fort Knox is an environmentally friendly product. We carefully select, sort and treat the wood for production and assemble the product by hand in our EU factories before packing and sending it to you with our love.
More than 10,000 customers have joined the EscapeWelt family. They appreciate our work and dedication to creating the best experience possible. and continue to show their love by coming back time and time again.
We will continue to make you and your families happy!
The history of the toy
In 1947, an event occurred in the US state of Kentucky that turned the criminal world upside down. The legendary thief Al Capone entered one of the US's most secure vaults. Knowing his life was near an end, Capone had a brilliant idea to hide all the loot he had stolen in plain sight. His location of choice? The Fort Knox storage facility.
The gold vault was considered the most secure location in the world: its walls were made of granite, covered with a layer of concrete, and a 22-ton door protected its entrance. To open the door, you need to access the code, which is divided among several people for added security.
In case of an attack, autonomous life support and power supply systems are provided, including food and water supplies. The security of the complex was so great that the Crown Jewels of the United Kingdom were placed in storage at Fort Knox during the Second World War.
Al Capone made a vast fortune from heists and fraud, but this break-in wasn't about money. There was one thing that was of great value to him. A coin that he received from his father as a child and kept all his adult life. The Bubu coin. This ancient coin was passed down from generation to generation through the Capone bloodline. The legendary criminal wanted to hide it so that no one could find it for centuries.
Al Capone made his way to Fort Knox and laid the coin there, locking it away. Now the legend is confirmed, and the entire underworld wants the coin.
Do you have what it takes to steal the Bubu coin?
Then take part in a battle with the entire underworld! Infiltrate the impenetrable Fort Knox and be the first to pick up the legendary coin.
Technical parameters
Dimensions and weight
Fort Knox weight - 250g
Dimensions - 12 x 10 x 11.5 cm
Inside compartment - 9 x 9 x 4 cm
The kit includes:
1. Fort Knox
2. Flyer - instructions for solving problems
Do you need help solving the puzzle? Scan the QR code from the flyer and go to the Fort Knox online tips page.
Available in English and other languages.
Playing time
Fort Knox is a simple game from EscapeWelt intelligent game series. Fort Knox has an average completion time of 25-40 minutes.
Play alone or with friends and family. You can share the experience of puzzle solving with two to three other players.
It is very high quality, nice to hold in your hands. I did it alone and I needed clues 😄 Dor all that I decided, everything is cool. Thanks
I received it as a present, it was very unexpected and interesting, I haven't seen this before. We did it together with my mom, we liked it
It turned out to be a little easier than the Space Box, but I really liked it, it's interesting. Thanks for the coin, I will save now 😄